LPS derivatives: labelling and chemical modifications
Highly purified antigens
With more than 30 years of experience, LPS-BioSciences develops a know-how based on chemical modifications of Lipopolysaccharides. LPS derivated Polysaccharides, as well as LPS derivated Oligosaccharides can be produced for vaccine purposes. In order to follow the LPS, it is also possible to conjugate them with proteins or fluorochrome for example. 
LPS-BIOSCIENCES has been providing the world leaders in vaccine pharmaceutical industry with tailor made antigens from Lipopolysaccharides. We can provide you with highly purified antigens.
Polysaccharide antigens for conjugate vaccines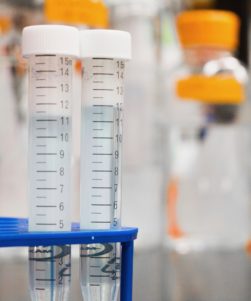 In contrast with Hot Phenol-water extraction, LPS-BioSciences methods do not harm the Polysaccharides structures and preserve all their antigenic properties and decorative structures. Your antigen will be representative of the native structure of the bacteria. LPS-BioSciences is able to separate and purify the different molecular species obtained. Each LPS post-modification is controlled by structural analysis. It is also possible to increase antibody secretion by coupling LPS with proteins such as bovine albumin or hemocyanin. 
Obtain complex LPS derivatives for your research experiments to study the impact of these modifications
Labelled LPS
LPS-BioSciences has the know-how to apply various labelling to LPS structures. We can mark LPS with FITC or other chromophores. You will be able to follow LPS labelled with a chromophore such as FITC in your in vivo experiments.


Contact our experts to evaluate the possibility of conjugating LPS with the molecule of your choice.
Detoxified Lipopolysaccharides
We are able to detoxify Endotoxins. LPS-BioSciences targets the endotoxic part of the LPS and modifies the structure to reduce its toxicity. Our methods selectively disable the pyrogenic structures to avoid the deleterious effects and drastically reduce the toxic activities. These detoxified LPS can be used to study the immunostimulatory response while reducing the adverse inflammatory effects. 
Contact our experts to customized LPS detoxification for your study.